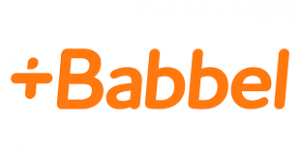 Senior Corporate Communications Manager (f/m/d)
Babbel is driven by a mission: Everyone. Learning. Languages. This means building products that help people connect and communicate across cultures. Babbel, Babbel Travel and Babbel for Business focus on using a new language in the real world, in real situations, with real people. And it works: Studies with Yale University, City University of New York and Michigan State University prove that it gets users talking with confidence.
The key is a blend of humanity and technology. A team of linguistic experts hand-craft each of our courses, to provide content that is constantly adapted to our learners' needs. Interactive content with videos and podcasts makes understanding a new language easy, because Babbel is for everyone. That's why our team is as diverse as our content. From headquarters in Berlin and New York, 750 people from more than 60 nationalities represent the backgrounds, characteristics and perspectives that make all humans unique. Making a true connection with millions of paid subscribers across the globe is what makes Babbel the most profitable language learning app worldwide.
Babbel in Numbers:
The #1 top-grossing language learning app globally
Millions of active paying subscribers
More than 60,000 lessons 14 languages hand-crafted by 150+ linguists
More than 10,000 hours of learning content
Over 70 learning podcast episodes and over 50 hours of video learning content
We are looking for a Senior Corporate Communications Manager for our team in Berlin!
---
Babbel is one of the most successful Berlin tech-companies and the global market leader in online language learning. To double down on this success story and to make it visible you will establish a strong corporate brand and brand narrative to be executed via media placements, events and any thought leadership opportunities. You will be the point of contact for international business media and use your journalistic mindset to identify constant story points, working closely with Babbel's executives and relevant teams, reporting to the Communications Director.
Join the enthusiastic and successful communications team at Babbel and be sure to bring your personality and a dose of good humour with you!
You are
An empathic, effective corporate communicator
A creative and dedicated storyteller with a journalistic mindset
A well structured and organized teamplayer
A genuine, social personality that does not shy away from the spotlight
Savvy and engaged when it comes to diversity and inclusion
You have
5+ years work experience in Corporate Communications for a medium or large sized tech company or similar
Proven track record when it comes to creating and executing Corporate Comms campaigns
Strong writing skills and clarity when it comes to content and stakeholder management
An existing journalist network within the DACH and/or English speaking markets
Experience in placing and preparing company speakers at international events
Deep factual knowledge of Corporate Communications
Near native-level German and English language proficiency
Nice to have
You will be
Working in a close-knit unit that is part of the communications department
Building and  maintaining Babbel's global corporate brand
Constantly identifying story points to create narratives and content
Maintaining and building relationships to Top-tier international media
Training and briefing Babbel's executives and other corporate speakers
Creating content for Babbel's executives
Be the gatekeeper for any corporate relevant information
Analysing and monitoring statistics and KPIs for all your work
Why Babbel?
A steep learning-curve – personally and professionally
A challenging environment and a lot of responsibility to prove your skills
A lively startup atmosphere with friendly working hours
A vibrant international company with people from over 60 different nationalities
Great company benefits (30 vacation days, unlimited access to Babbel account, high-end company bike, fresh fruit and drinks, English/German classes, In-house Training Academy)
---
Sounds good?
We are looking forward to hearing from you!
veröffentlicht:
läuft aus am